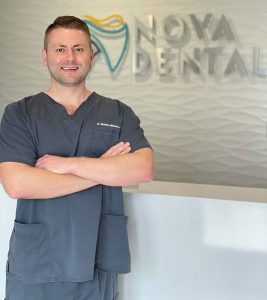 Nickolas Kelly Mickelson, DMD, BS
Dr. Mickelson grew up in Fargo, North Dakota, with a passion for dentistry starting at an early age. He received a bachelor's degree in biological sciences from the University of North Dakota, before attending Lake Erie College of Osteopathic Medicine (LECOM) School of Dental Medicine as part of the inaugural class. He practiced dentistry in Erie, Pennsylvania, at an outreach clinic during his final year before graduating in 2016.
Dr. Mickelson has received advanced training in dental implants in the Dominican Republic, advanced fillers and BOTOX® in Sao Paolo, Brazil, as well as from Spear Education, Dawson Academy and some of the most knowledgeable dentists from the world: Dr. Strupp, Dr. Brumm and Dr. Stephen Phelan. Dr. Mickelson also takes more than 32 credits in continuing education every two years to make sure he is up to date with the latest advances in dentistry.
His goal as a dentist is to give patients the highest level of care in a comfortable setting by utilizing the latest technology available. He also wants to help patients keep their dentition for a lifetime. He believes in connecting with his patients, and creating the best-possible experience for each individual by taking an active role in their health.
Dr. Mickelson has a wife, Maisa, one son and one daughter. In his free time, he enjoys fishing, golfing and spending time with family. He also has a passion for learning languages and has studied a lot of Spanish and Portuguese; so he is happy to help anyone with potential language barriers.